Our Frames
We only use solid hardwoods for our frames, each with their own unique characteristics and properties. All our timber is from BM Trada, FSC and/or PEFC credited suppliers.
We machine, cut and join everything in our dedicated workshop. By employing a range of specific woodworking techniques we ensure a solid, well constructed, and durable frame.  This also allows our frames to be re-finished and re-imagined should the need arise.
Each frame goes through a series of specialised construction processes, machine and hand sanding, specific finish preparation and finishing techniques that we believe makes all the difference in the look, quality and longevity of the end product.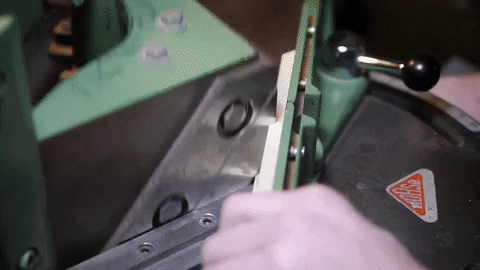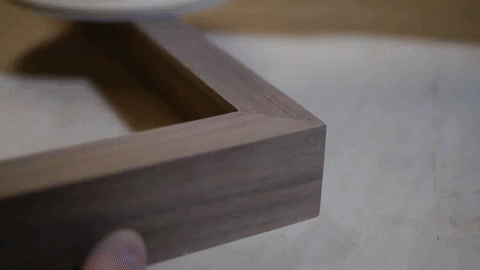 Sprayed Finishes
Our sprayed finishes are perfectly smooth and brushstroke free, after much research and development using only environmentally friendly water based products we are pleased to be able to offer this finish, that we believe any artist, gallerist, or collector would be happy to exhibit or their work in.
Aluminium
Aluminium is an ideal material for making frames due to its strength, durability and lightweight characteristics. Available in a variety of different sized mouldings, it is great for artworks that are going to travel or be handled more frequently and large scale frames when a thin profile is preferred.
We offer our aluminium frames in a range of powder coated and special paint and lacquer finishes as well as raw aluminium finishes.
Tray Frames
Tray frames are a simple and effective way of framing works without glazing. The artwork is set back from the front face of the tray for protection and the borders can be adjusted for preference. Tray frames can be finished in any style, wood or aluminium,  just like a standard glazed frame but are much more suited to canvasses, painting on boards or dry-mounted photographs as well as a contemporary option for mirrors.
---
All images copyright RO Frames 2023 - www.roframes.com